Hello,
I see that there's a new feature added to the extensions, called Virtual Virtual Devices, which, from what I understand, it allows you to create an extension and "attach" a virtual device, thus, allowing you to set an external phone number in this section.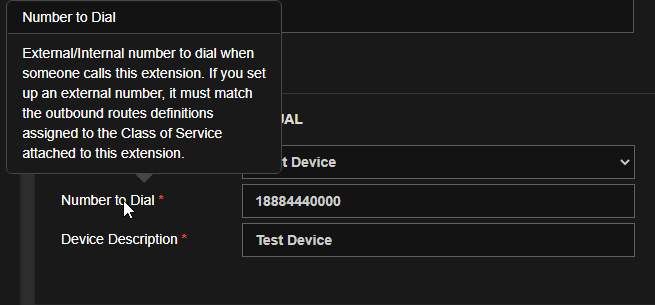 So here's two questions:
What is it different from what we were able to do until now when creating an extension with no device attached and used FollowMe with an external number?
When entering a number, I see that it sets the following in the Asterisk Database:
[root@pbx1 ~]# asterisk -x"database show <tenantID>/extensions/1234/dial"
/<tenantID>/extensions/124/dial          : Local/18884440000@cos-all

Shouldn't this rather be a custom dial string? So we can specify our own custom stuff.
For example, so we are able to set something like:

Or any SIP URI:
SIP/whatever/foo

Or:
SIP/Foo/Bar&PJSIP/1234@MyTrunk

Thanks